When you are a full-time traveler and living in your RV you still need to find a way to support yourself. The good news is that there are plenty of full-time jobs you can have while living on the road. There are a number of legitimate remote jobs out there, you just have to know where to look. And how to avoid the scams.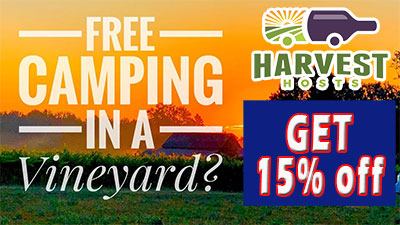 More than two-thirds of people around the world work from their homes or while traveling, on the road. You do not have to be in an office or workplace to earn a living. Since 2005, there's been a 159% increase in remote work which is great news for those that no longer can work 9 to 5. Since COVID these numbers are just growing!
1. Freelance Writer
There are numerous opportunities for freelance writing available. Many companies, especially start-ups, have a need for writers for their blog posts, website copy, sales emails, and more. Often, online publications and forums will accept pitches from freelance writers. All you have to do is write a few pieces and submit them to the appropriate niche. There are also a few helpful websites that can get you going in the right direction such as freedomewithwriting.com and problogger.com.
2. Virtual Assistant
As more and more businesses move their companies online, there is a demand for virtual assistants. This is someone who helps a business owner with his or her online company. A virtual assistant can help with proofreading blog posts, adding images to the site, customer service, scheduling notifications, bookkeeping, managing emails, and managing social media pages. If you're a virtual assistant, you can do work from anywhere, for anyone.
3. Proofreader
If you're good at catching grammar and spelling errors, proofreading may be the work-at-home career for you. There's a high demand for proofreaders, especially due to the rise in online businesses and self-publishing. People who write those fiction and non-fiction books need someone to go through their copy and look for errors. There are online webinars available for you to sharpen your proofreading skills and to help you determine if that is the job for you.
4. Transcriptionist
Most people think of transcriptionists as those who transcribe legal documents. But there are more opportunities than that available. You just need to have keen attention to detail and like to type. With the increase of video online, many companies are hiring transcriptionists to turn their videos into written documentation that can then be used for marketing, training, blogs, or website content. You can check online for free general and legal transcription courses and then get right to work.
5. Full-time Blogger
Blogging takes tons of time and effort, but it is possible to make good money blogging. This is a great way to make a living, especially when traveling. Some travel bloggers can make between $10,000-$200,000 a month. Blogging is a popular business but it is important to remember that you have to start somewhere. It takes a lot of learning and persistence for this career to pay off. The best part about blogging is that you can blog about anything you are interested in or that inspires you. I have a friend that has started a YouTube channel three years ago and by now, they have over 30k followers and earning a decent living. I also know people on the road that are blogging and make an honest living that way.
6. English Tutor
If you have been a teacher in the past or have always wanted to teach, you can be an online tutor to children overseas. There are numerous opportunities to teach English to international students. All you need is a good internet connection wherever you go. Several companies will pay up to $22 per hour to people that want to teach English online to kids in China. The top companies to check out are VipKid and QKids.
7. Online Education Tutor
If you're an expert in your field, you can become an online tutor for high school and college students online. You can offer tutoring in fields as diverse as accounting, biology, chemistry, psychology, US History, or Calculus. There are companies like Course Hero that you can register with and they will connect you to students. All you typically need is a bachelor's degree in the field you want to teach. You do not have to be a teacher but must be able to demonstrate expertise in your field.
8. Amazon FBA Business Owner
The FBA part in Amazon FBA means Fulfillment by Amazon, which means you send products to Amazon, and they ship them out to customers. You can do two types of products: buy discounted products in a store to resell, known as Retail Arbitrage, or create your own products which is known as Private Labelling. You can create a thriving online e-business if you go with something like Amazon FBA.
9. Fiverr Services Seller
If you're just getting into the world of online work, you can start by selling your services cheaply on Fiverr. You can offer anything from graphics and digital design to writing to video and animation, to digital marketing. You get to set your own rates and get your own clients. You can easily live a life of full-time travel, and add work to your portfolio that you can show higher-paying clients in the future. This is one of the easiest ways to make extra money.
10. Graphic Designer
Graphic design is a great remote job because many small businesses need someone to do their visuals. Both large and small businesses need graphic designers to create logos and Pinterest pins. Graphic designers can work in marketing, technology, and commercial industries. You can create posters, pamphlets, marketing materials, and billboards, edit photos, and choose fonts.
11. Digital Marketer
A digital marketer is responsible for marketing a specific business and this involves tasks such as email marketing, social media marketing, and search engine optimization. A possible idea is to create Facebook ads that will drive traffic and interest to a small businesses' website.
12. Bookkeeper
Bookkeeping is now a growing field in the world of remote and online working. Specifically, small businesses looking to hire bookkeepers from outside the office to manage their finances. You can choose whether you want to work for a company as a bookkeeper or try to create your own schedule and client roster.
13. Etsy Seller
Selling Printables on Etsy is another great way to make money online. You can sell invitations, banners, wall art, and signs that people can buy, download, and print. It's the perfect mobile business because there is no inventory to worry about. This is a better option for those looking for part-time remote work and it will definitely bring in a little extra money each month.
14. Essential Oils Marketer
Essential oils are a popular fad right now and you can get in on it by setting up an online business and selling essential oils. Selling essential oils for companies like dōTERRA is great because you only have to do the selling. You get a few samples to keep on hand but you do not have to worry about the inventory. Many who have worked with this particular company say they get to educate people on how to use essential oils to support their health and help them purchase the oils with a wholesale customer account.
15. Web Designer
A web designer designs websites for businesses and sole proprietors. As a web designer, you will decide on styling, colors, fonts, and images that appear on the homepage and any other pages. This job typically requires some experience as companies that hire you will want the work to be professional. A web designer uses a combination of HTML, CSS, and existing themes to create a stylish and informative website, so knowledge of these is a must. Right now, web designers are in high demand, and it's a job you can do with a computer and an internet connection.
If you are looking to earn a living or just bring in some extra cash working remotely, then look into any of these options. There is something for everyone. You just need to look for the work that best suits your experience, your needs, and your time. Working from the road has ever been easier.