When you are looking for an RV but do not need or want a massive and overly priced one, then a truck camper may just be for you. Depending on how flexible your definition of a truck camper is, you can find some incredibly lightweight options out there.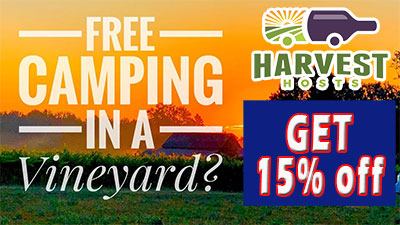 There are typically two types of truck camper:
Pop-up tents that sit on the bed of a truck and
Hard Side Truck Campers
We will be only talking about hard side truck campers in this article.
Truck campers typically provide enough space to accommodate at least 2 people, along with some camping gear. They give you a safe and warm place to camp, either directly on the bed of your truck. The biggest advantage of small truck campers is that they are lightweight and minimalistic.
Shopping for a new or used truck camper can be a challenging experience because choosing the best truck camper for your needs takes a little research. You need to understand all of the aspects and benefits to make sure you get the most out of your outdoor activities and provide better, enjoyable, and safe times on the road.
Choosing a truck camper will also save you money. In many cases, yearly maintenance is limited to the vehicle while seasonal storage fees can be off-set by simply storing the truck camper in a garage. Insurance providers can also add coverage to your existing truck policy so you get additional savings there too.
Type of vehicle required 
Whether you choose a short- or long-bed truck camper, what matters is that your truck's payload capacity can accommodate the dry weight of the unit. This will determine the type of truck camper you should choose, and also makes for safe travels, optimal handling, and preventing damage to your vehicle's suspension.
Most truck campers vary in dry weight from approximately 61500 pounds (short bed) and 4000 pounds (long bed). The style, materials, construction, and size of the camper will all influence the weight. With these standard dry weights, a three-quarter or one-ton truck is the preferred choice because of their heavier payload. When considering payload and camper weight, you must not forget to account for your gear that you'll bring along as it greatly contributes to weight.
Exterior: Aluminum or Fiberglass
There are essentially just a few types of structures to build truck campers. One is a solid wood-frame structure enclosed with aluminum sheets and the other is an aluminum frame structure with a laminated, fiberglass finish. Fiberglass is the more expensive option but it offers several advantages such as:
Stronger bond for better driving experiences
Better durability
Much easier to maintain and clean off debris
More functional in harsh conditions and weather
Higher resale value
Better sound insulation
The aluminum options may be more prone to weather damage but they are less expensive which makes them the best picks for first-time RVers.
Interior
The interior of any truck camper will depend on personal preferences. The spacing, utilities, materials, and designs are all different so you pick what best suits your style and needs. You will need to decide what matters most to you in terms of amenities, comfort, quality, and color. You also want to make sure it is practical to live in especially if you plan to be on the road for a while.
The Top 5 Cheapest Truck Campers
For your first time living the RV life, you want to start out simple and affordable. But you also want a truck camper you can count on and that will give you the comfort of home. Below are the best low-cost truck campers on the market today to help get your search started.
Capri Retreat Long Bed
The Retreat is a hard-side, non-slide truck camper for long bed trucks. The most unique feature is the one-piece fiberglass shower stall. Note that it's not a wet bath with a toilet and a sink, just a shower stall. The shower stall will accommodate a Porta-Potty. You also get three large adjustable shelves for storage, which is something smaller truck campers typically lack. Your kitchen features a single basin stainless steel sink, two-burner flush-mount propane cooktop, a microwave, and a 2-way, 3-cubic foot refrigerator. The cabover sleeping area is in an east-west configuration meaning you sleep from passenger to driver side and there is additional storage space around the bed.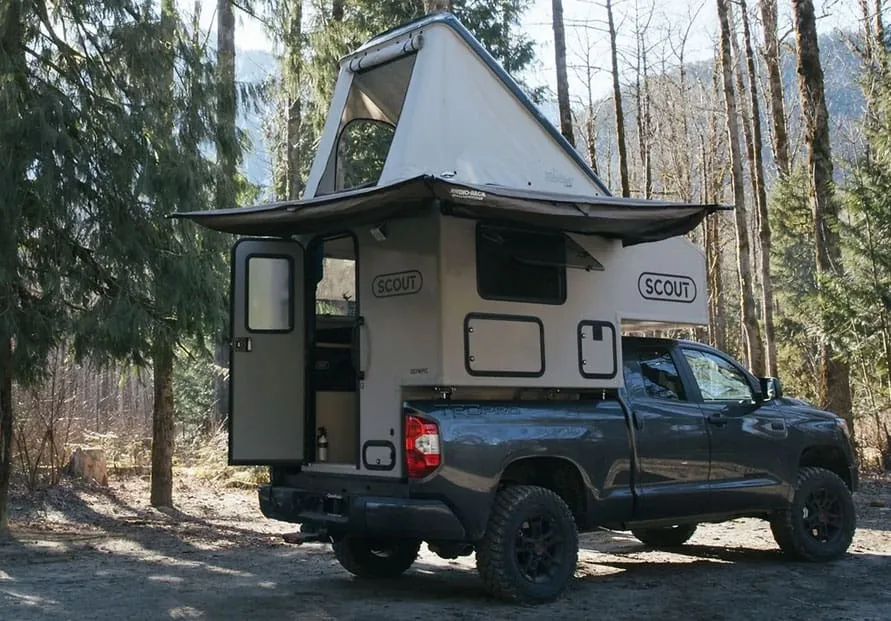 Scout Olympic 6.5
The Scout Olympic 6.5 is a hard side, non-slide, short bed truck camper. Inside this lightweight camper, you'll find detachable camping equipment that you can take with you. Take your dining table, camp chairs, fridge, and stove outside and enjoy more fresh air. The exterior pull-out storage tray doubles as an outdoor table-top that you can cook on and use as a functional surface. And with the Batwing awning, extending 270 degrees along the back wall and sidewall will protect you from the elements when needed.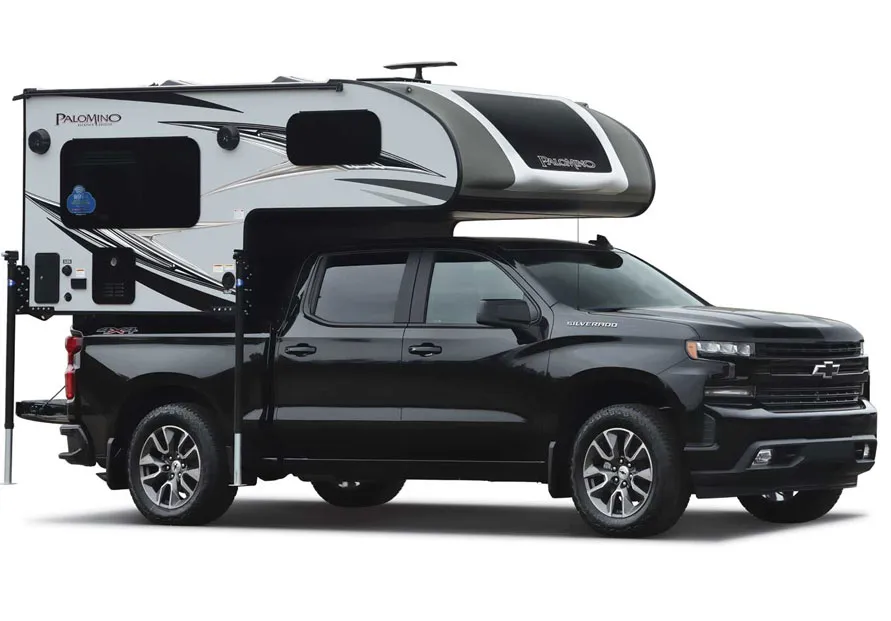 Palomino HS-690
The Palomino HS-690 is a hard side, a non-slide truck camper that fits both long and short beds. The lightweight camper includes as standard a water heater, exterior shower, interior sink, two burner range, 5-cubic foot refrigerator, plenty of storage, a U-shaped dinette, queen size bed, porta-potty storage, and an AM/FM, CD, DVD, USB, and Bluetooth-equipped stereo system.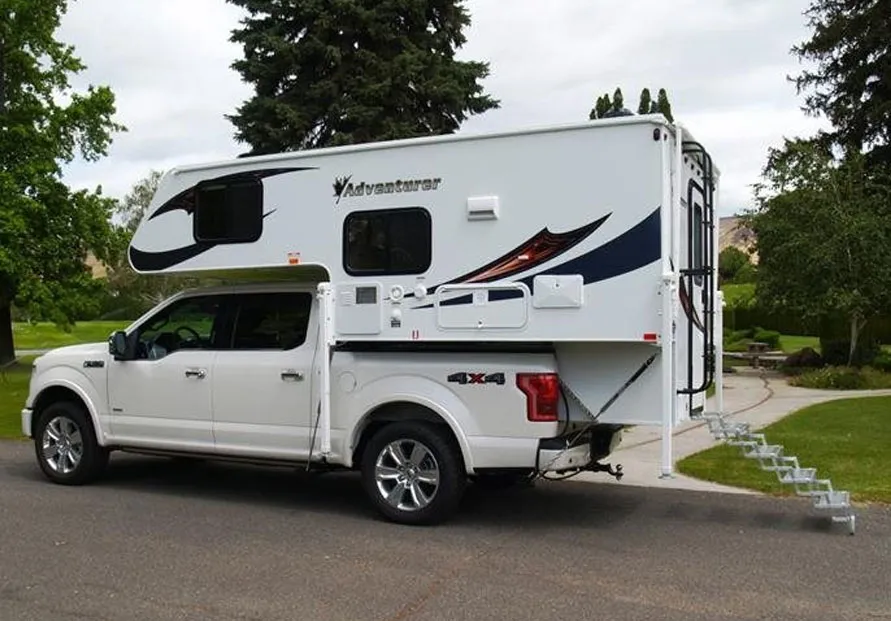 Adventurer 80RB
The Adventurer 80RB is a hard side, non-slide, wet bath, long or short bed truck camper. Even with strict weight guidelines, this camper offers a healthy list of standard features including a high gloss Lamilux 4000 fiberglass exterior, wet bath with flush toilet and shower, north-south queen-size bed, roll-out sofa bed, all LED lighting, and a four-cubic foot refrigerator. Despite the lower price and lightweight aspects, this camper boasts a high quality of materials and a comfortable feel.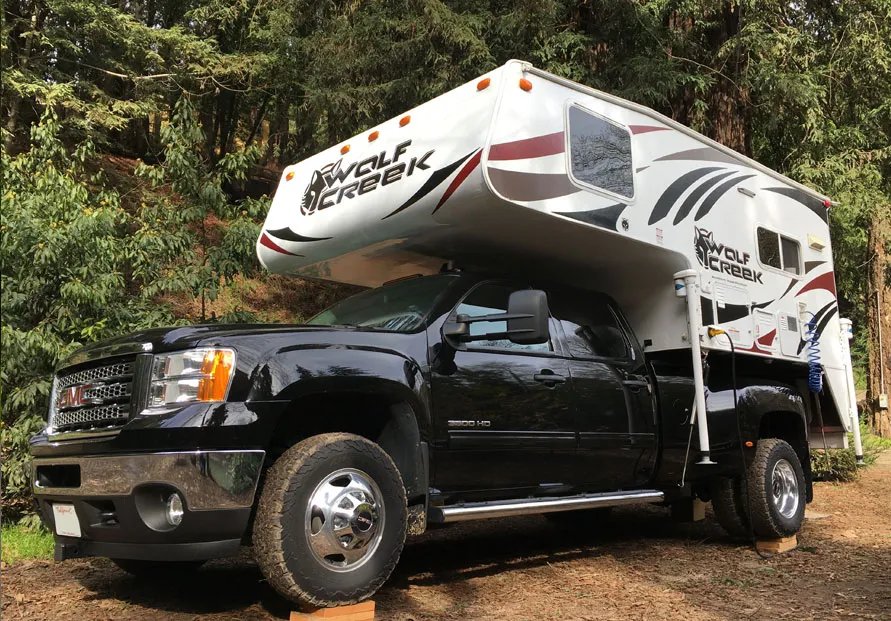 Wolf Creek 840
The Wolf Creek 850 is a hard side, non-slide, wet bath truck camper suitable for both long and short beds. At the most basic Value Package, you can get an AM/FM/CD player with Bluetooth, rear awning, 5 cubic foot refrigerator, dual 20 pound LP tanks, exterior shower, heated holding tanks, roof rack, ladder, sewer hose storage, and Combo Bunk Cab with dinette.
The choice for truck campers can be daunting, but we want to make sure that it isn't that way for you. Once you know what your budget is, these are the top 5 truck campers to start with. Whether you are a newbie to the RVing life or a pro, these smaller truck campers are perfect for exploring the open road. Affordable, reliable, and easy to maneuver where bigger rigs cannot go, look into a truck camper today.