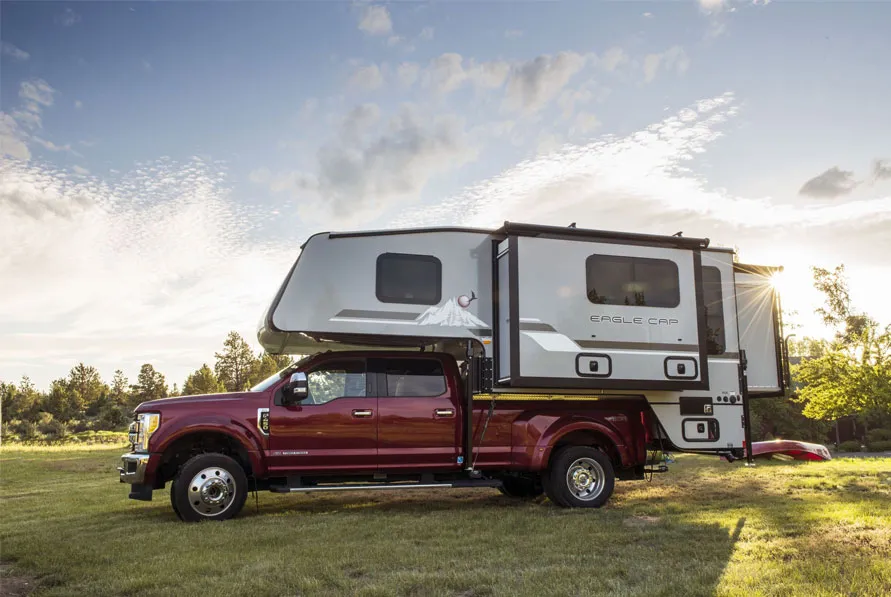 You are ready for full-time RVing and all you decided to get the best truck camper. But who makes the best truck camper? The answer is not a simple one. There are so many brands and models available, that it is not just a case of picking the best one. Each is great in its own way. The best camper will be the one that is best for you. Best for your needs, budget, comfort, and style. We are here to help you find just which one that is.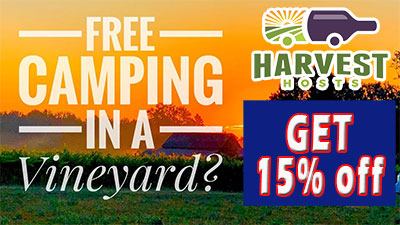 Not Every Camper Fits Everybody
There is not one single camper that will be best for everybody. People have different budgets, different preferences, and different needs. So there will always be a different best camper for each person. When you go shopping for a camper, the more specific you are with what you want, the easier it is to narrow down the best options for you.
Based on specific questions, the choices of campers can be narrowed down for you. The options you would be faced with will best fit your requirements. Once you only have a few to choose between, additional questions regarding weight, price, and your camping style can get you to the best camper for you. There are five questions that are specifically designed to get you towards the best camper for your needs:
1. Do you want a long bed or a short bed truck camper?
2. Do you want a pop-up or a hard side truck camper?
3. If you want a hard side camper, do you want a non-slide, single-slide, double-slide, or triple-slide floor plan?
4. If you want a pop-up camper, do you want hard-side pop-up walls or soft-side pop-up walls?
5. Do you want a wet bath, dry bath, or no bath?
Once you have these five questions answered, you will have the recipe for the best camper. For you.
The Next Question: Price and Weight
After you have answered these five questions, the narrowing of choices is taken a step further. Before making a recommendation, most manufacturer representatives and camper dealers will want to know your budget, target price range, and also the target loaded and wet weights.
Don't worry if you don't have this information ready. You may not have the towing vehicle yet, or you may want to keep your price and weight options open as you learn which of the non-slide, single-slide, or multi-slide styles is right. Making price and weight decisions ahead of time can be helpful, but it can also be too limiting.
Don't forget to include all possible weights when discussing target loads. For example, if you also have a boat that goes along with you, the weight of the boat needs to be considered as part of the total target loaded weight. The recommendations for a camper will change based on this, and it will do you no good to get options that will not work. And it wastes the representative's time and patience when trying to help you.
Construction Quality And More
You want to know what truck camper brand has the best construction quality, best quality control, best warranty, best customer service, and best long term reliability. Everyone defines construction quality differently. Where one person may prefer aluminum framing another like wood framing. This does not mean that aluminum framing is of better quality than wood framing. The same goes for lamination versus a hung wall, basement versus non-basement design, and so on.
To find the best construction quality, you need to decide what construction approach you think is the best. To get a handle on the construction approach for each company, read their factory tour articles, new camper announcements, and model year updates. This research will give you an excellent overview, along with specifics about how a given company builds truck campers, and why. You then need to ask yourself if you agree with their construction process, construction materials, and construction approach, or would you prefer another?
It is recommended that you check reviews. To find out about a brand's customer service and long-term reliability, we recommend talking directly with owners of that brand. That means talking to owners in person at truck camper rallies and online via truck camper forums and owners groups. Just be aware that anyone can be an expert on the forums, and make sure to balance your gathered feedback across multiple sources.
Every consumer product also has a different warranty. From brand to brand within a specific category, the brands themselves have different warranties from one another. The truck camper manufacturers also have different warranties, and warranty terms, from one brand to another. The way each manufacturer's warranty covers the camper structure, materials, and appliances, is different. Furthermore, the materials and appliances will often have their own warranties, from the original manufacturer of that material or appliance.
Our recommendation for comparing truck camper warranties is to read through the warranty information on the manufacturer websites. If you want more detailed information, contact the manufacturer directly and ask for a copy of their warranty, or visit a local dealer and read through the printed warranty included with the campers.
The Search Starts Here
Now that you know the questions to answer to help figure out the best camper for you, we have the top 5 campers for solo travelers for you to start with.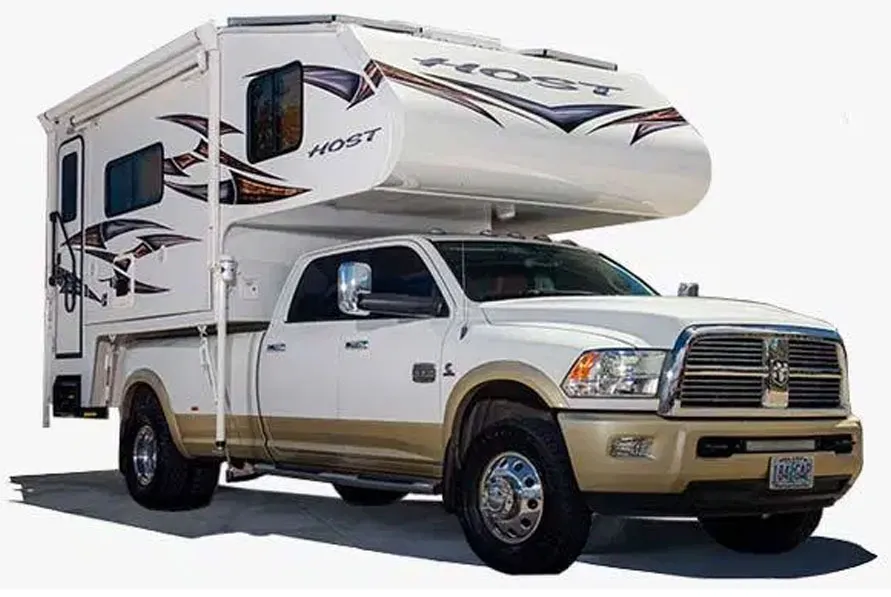 Host Yukon
| | |
| --- | --- |
| MSRP | $38,995 |
| Weight | 3955 lbs |
| Width | 8′ |
| Length | 19'3" |
| Fresh Water | 65 gallons |
| Long or Short Bed | Short Bed |
| Slides | Triple slide-out, side entry |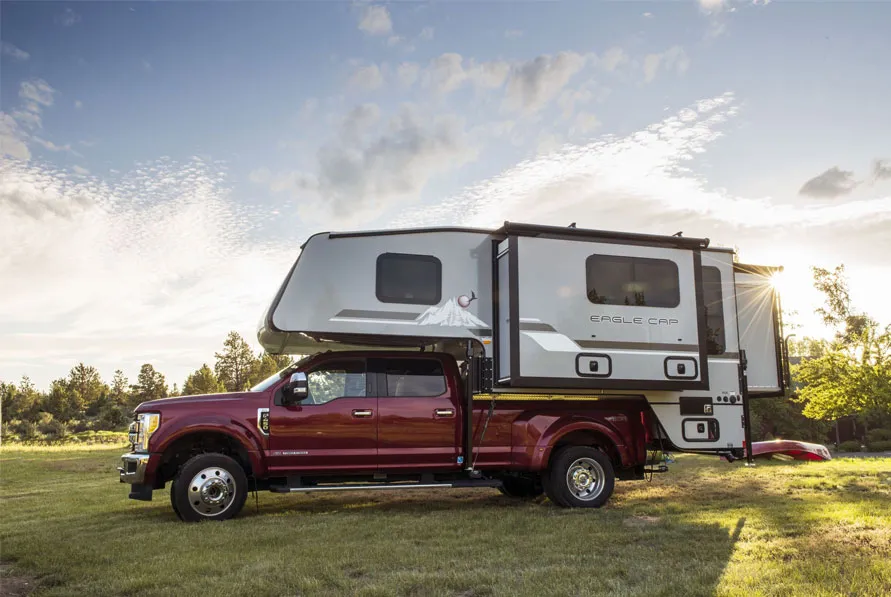 Eagle Cap 1200
| | |
| --- | --- |
| MSRP | $52,815 |
| Weight | 4930lbs |
| Width | 8′5″ |
| Length | 10.62′ |
| Fresh Water | 66 gallons |
| Long or Short Bed | Long Bed |
| Slides | Triple slide-out, side entry |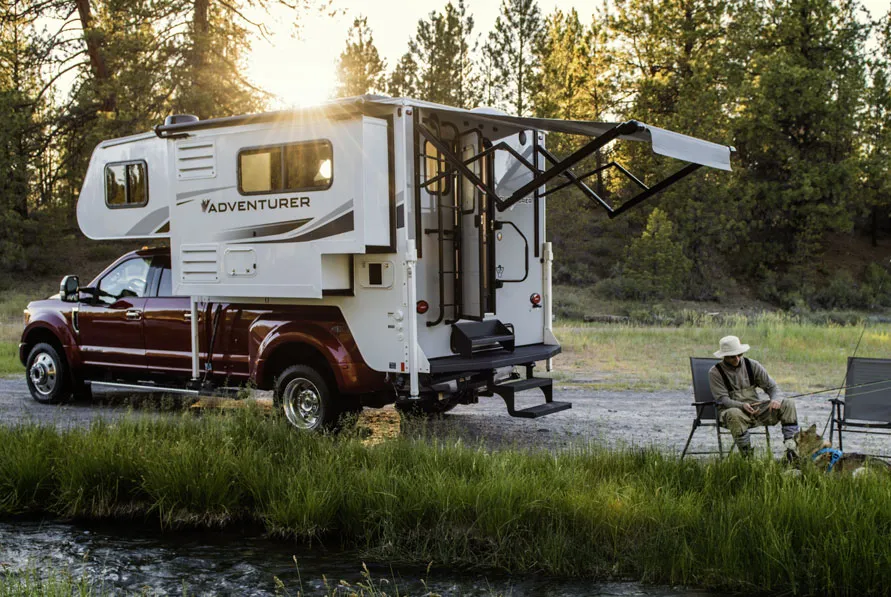 Adventurer 89RBS
| | |
| --- | --- |
| MSRP | $31,661 |
| Weight | 3122 lbs |
| Width | 8′ |
| Length | 16'8" |
| Fresh Water | 38 gallons |
| Long or Short Bed | Both |
| Slides | Full wall single slide |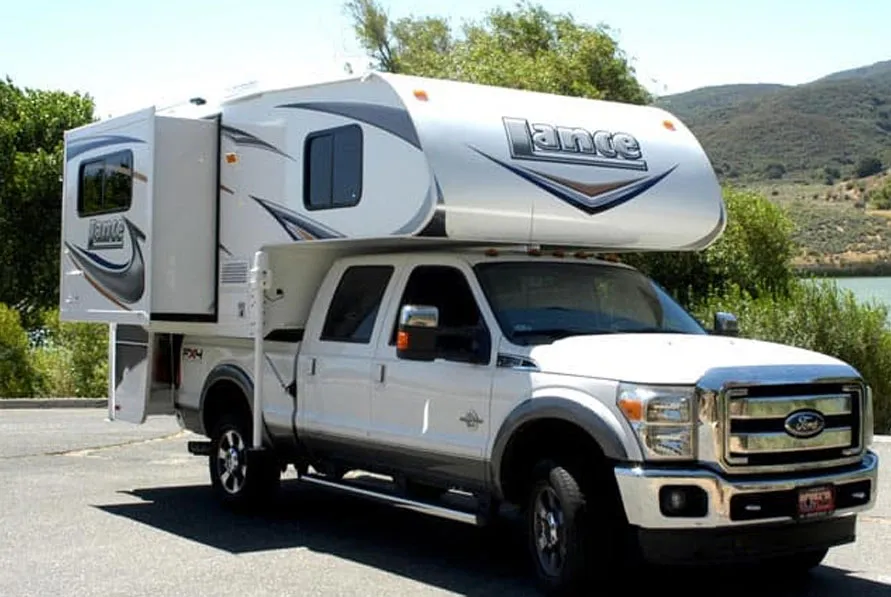 Lance 855S Truck Camper
| | |
| --- | --- |
| MSRP | $40,868 |
| Weight | 2997 lbs |
| Width | 8'5″ |
| Length | 15'10" |
| Fresh Water | 2997 lbs |
| Long or Short Bed | Short |
| Slides | Single Slide |
The answer to "what is the best camper for solo travelers?" is not a simple one. The answer really depends upon the person shopping for the camper and their requirements. Some are perfectly happy with a simpler and lighter camper like a pop-up, and others want bells and whistles. The cost of the camper, of course, plays a role in the decision too. Fortunately, for today's consumer, there is much to choose from when it comes to a new truck camper and we have done a lot of research for you to help get your search for the best truck camper started.