Class C RVs come with an overhead bed and are perfect for anyone starting out with an RV. Class C RVs usually the cheapest RVs (compared to Class B or A) but there are some models that will offer you a better deal. I tried to find the cheapest, smallest but most popular NEW Class C RVs for you. For those who have to be budget-conscious, there are five top-rated RVs below that will make RVing fun and will offer you the best bing for the buck.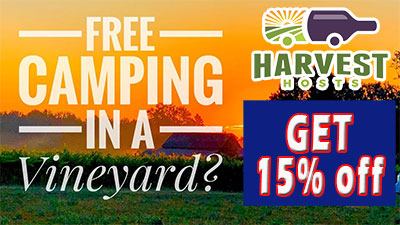 1: Four Winds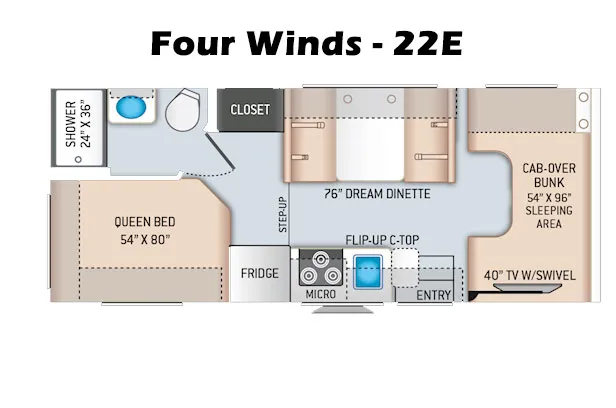 The Four Winds RV is a great place for friends and family to gather for an adventure. It's made by Thor which is now the largest RV manufacturer in the World owning brands like Airstream, Entegra and Jayco. There are several floor plans available, here I'll introduce you to the smallest which is the 22E. All standard equipment can be found with each floorplan and every style is affordable. Each model has a kitchen, bathroom and varying bedroom sizes. Every RV is well-laid out offering comfort, style and easy operation.
MSRP: $88,350
Website for more info: https://www.thormotorcoach.com/fourwinds/
2: Freelander
Coachmen offer fifth wheels, motorhomes, travel trailers, and camping trailers. Let me introduce you to their least expensive layout one which is the Freelander 20CB. I have a Coachmen Orion with a similar layout. You can design your RV according to your own needs and specifications choosing from different layouts and slide outs, and setting the length you need. Coachmen will look at your specifications and find a floorplan to match. With one-year free Roadside Assistance too, Coachmen RVs are a good fit for all.
MSRP: $70,000
Website: https://coachmenrv.com/class-c-motorhomes/freelander
3: Outlook
Winnebago RVs are famous for their easy handling and high-quality construction. I'll introduce you to their smallest one, the Outlook. The 22E without slideout and the 22C with a bedroom slide are their smallest layout. These RVs offer style, comfort, and affordability. Winnebago's top two class C RVs is the Minnie Winnie and the Fuse. The Fuse comes with three roomy floorplans to choose from. The Outlook offers floorplans with a full galley, overhead bed, and an assortment of amenities to customize. The Outlook works for every budget and guarantees quality and comfort.
MSRP: $84,613
Website: https://winnebagoind.com/products/class-c/2019/outlook/overview
4: Sun Seeker
Sun Seeker is owned by Forest River. They offer different floorplans, the smallest is Sunseeker TS2380 and 2350LE. Each floorplan comes with plenty of storage and walking room without cramping comfort and style. Sun Seeker RVs come with TRA Certification making them one of the greenest and most environmentally-friendly RVs on the market. The one above, the 2380 is not really a class C, doesn't have a cab-over bed so it is basically a Class B+ RV. If you are looking for a real class C, check out the Sunseeker 2350LE. Each floorplan can be customized with amenities of your choice and Sun Seeker is known for its top-quality construction and value.
MSRP: $89,913
Website: https://forestriverinc.com/rvs/brand/Sunseeker/class-c-motorhomes
5: Chateau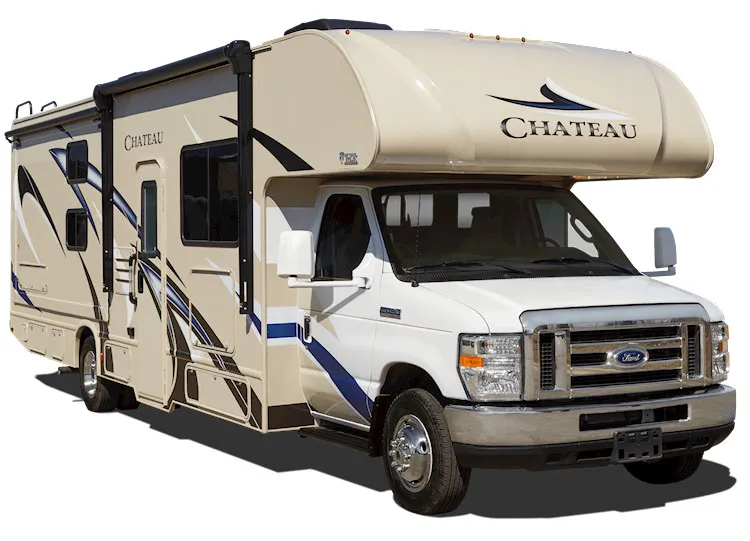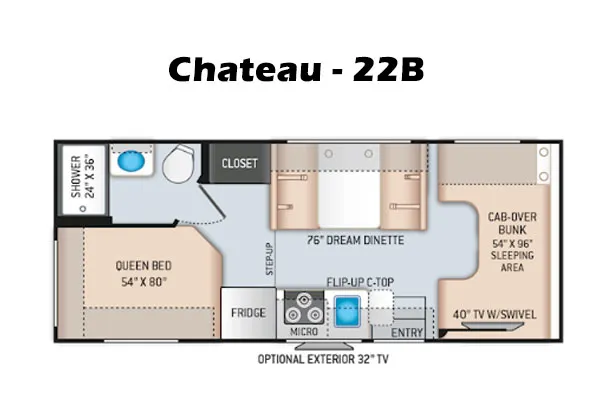 The Cahateu from Thor Motorcoach gives you all the comforts of home while you are living on the road. Their smallest and cheapest is the 22B with no slides and a corner bed layout. They have different floorplans and sizes to choose from. The multiple floorplans can be customized in terms of color, materials, and décor. Bathrooms and bedrooms are of comfortable size and there is plenty of storage both inside and outside the RV. A TV is built into each living area, no matter what option you chose. Both interior and exterior are built with top-quality construction and materials, guaranteed to give you a lifetime of adventure.
MSRP: $91,650
Website: https://www.thormotorcoach.com/chateau/