The Ford Majestic Tourer II is a great van for people who are looking for an excellent class B RV for a cheaper price. This van is less expensive than many of the other class B vans of its nature.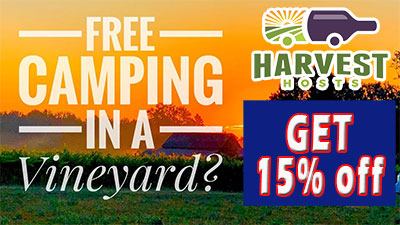 The V8 Engine is strong enough if you want to use the Ford Majestic Tourer II for towing, which is automatically going to make the vehicle significantly more versatile. The Ford Majestic Tourer II is also equipped with a spare tire that is conveniently located on the back of the van. This has multiple airbags and has been designed for safety in more ways than one, which should make a huge difference for the people who prioritize safe driving over many of the other characteristics in a vehicle. It is built on a Ford E-250 chassis.
"It is the perfect RV For 2"
There is a 2009, 2010, 2011, and 2015 model for the Ford Majestic Tourer II. While there are going to be subtle differences between all of these different models, the floor plan should be the same, and all models should manage to give owners a great performance.
It is going to be a great touring people for any couple of drivers and passengers. It does not have a black tank, the toilet is a separate cassette system that needs to be emptied separately. There is a great kitchenette area that has plenty of countertop space, as well as a stove with three burners and a sink. Someone who was just looking at pictures of the kitchenette would never know that this was a kitchenette in a van in the first place. It might be mistaken for the sort of thing that people would see in apartments.
People who want to be able to sleep there during their trips are going to be able to do it comfortably. The bed area could function as a pair of thin single beds, or it could function as a queen-size bed. There are nightshades that resemble regular window blinds and if you like to sit outside in the sade it comes with a manual awning.
There is also space below that beds that should allow people to store anything that they need, and have plenty of storage spaces with stylish locking cabinets. With the queen-sized beds, it will be more like sleeping on a hotel bed. No vehicle is going to compare to any stationary area for most people, but the Ford Majestic Tourer II is still going to manage to get the job done who enjoy going on road trips.
The Ford Majestic Tourer II manages to fit a lot into a vehicle that is relatively compact. I lived in this RV for a year and I loved it. It was a rental before I purchased it was well taken care of, everything worked perfectly. I learned the ins and outs of managing an RV on this little thing. After I have decided that RV life is for me, I traded it in for a larger RV.
Details
100 watts of solar panels on top that I installed
Deep Cycle house battery.
Two bench seats make into a very comfortable bed for two.
Has an Onan 2.8 generator 
Non-ducted Roof A/C.
Has propane furnace,
Propane hot water heater,
Sink and 3 burner stove,
Shower,
Microwave,
TV and DVD player with auxiliary speakers in rear,
Small fridge freezer combination,
Satellite radio dock,
Rear sound system,
Aluminess tire carrier
Thetford cassette-style toilet (see video how to work it)
Greywater holding tank,
6.5-gallon underbelly propane tank,
Electric windows and locks,
Alarm system
Window blinds for all windows (except windshield)
Full storage under the bench seats,
Removable table to go between both bench seats
Dometic awning,
Approximately 21-gallon freshwater tank, cruise control,
Good sound system upfront,
5.4 V8 fuel efficient engine, 13-15 MPG on highway loaded,
55 gallon fuel capacity