Last Updated on January 25, 2022
There is nothing greater than hitting the open road in an RV. You can explore with enjoying the comforts of a home. Sadly, there is a lot of time during the year when your RV will not be in use. When you live in a city or urban areas, it is not easy and cheap to store your RV.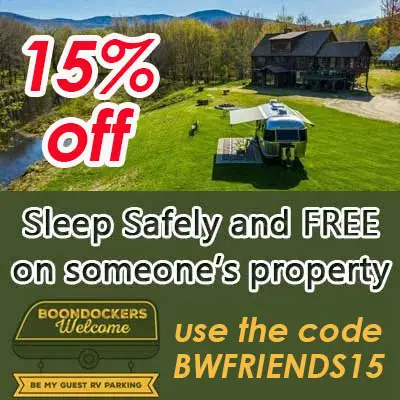 There are options for RV storage, however, but many make the mistake of renting any nearby space without doing any research and this is a bad idea.
Here are some things to consider:
There are some places that are excessively overpriced for RV storage, so you need to think before you jump in. Besides pricing, you have to ensure that your RV is safe with the storage operator. If you do not know what to look for, it will be an uphill battle.
There are a few things to think about when you need cheap RV storage. Look at the options and compare them all so you can find something that suits your needs as well as an option that is inexpensive.
Here are 3 ways to find cheap RV storage near you:
The Neighbor App: the app is trying to match people's empty space with other people's extra stuff. There is a menu for RV storage.
Storage.com is a self-storage aggregation website. As a network partner of US Storage Search, Storage.com provides information on the largest available variety of self-storage facilities and allows for online reservations through the website.
Local Facebook groups: I found a space for my RV through a local mommy group that my friend used. Join some active local Facebook groups and ask members if they have space available in their backyard. It worked for me!
Inside or Outside?
Do you go with a storage facility that keeps your RV inside or outside? Outside storage is cheaper, but your RV will get more protection when stored inside. When you have to pay more for outside storage, keep an eye on the weather forecasts so you can take it in before a storm hits. You also need to check that there is enough security if your RV will be stored outside. Outside storage can have its benefits, but the weather plays a big role in how your RV will be stored.
The RV exterior can age much quicker when kept outdoors, so you may find yourself with unnecessary maintenance costs down the road. In the long run, inside storage may save you money despite costing more upfront. Take the time to figure out the costs and what conditions you want your RV to be in before deciding.
Pros and Cons of Choosing Indoor Storage Facilities
There are many benefits to keeping your RV in an indoor storage facility. They are primarily places with more security, so it will be harder for thieves to break in and steal the contents of your RV. They also typically have climate-controlled storage, so you don't need to worry about the heat or cold during the summer or winter months.
Indoor RV storage facilities are excellent for people who live near where they parked their RV because it saves them the hassle of having to store it at home once they park it at their vacation destination. It's also a good choice for those who want to have a place to store their RV where they can always have it on hand in case they ever need to pull out the recreational vehicle again.
Indoor storage facilities are more expensive than outdoor storage facilities, but you can typically find monthly rates that work for your budget. They also provide security cameras and on-site security so you can feel safe knowing your RV is in good hands while it's being stored.
Pros and Cons of Outdoor Storage Facilities
The main benefit of choosing an outdoor storage facility is that these places are generally cheaper than indoor storage facilities. However, this makes them more susceptible to weather, break-ins and theft. You will want to take extra precautions to ensure your RV is locked down and cannot be moved from the facility.
Outdoor storage facilities are perfect for people who don't want their RV in their own backyard while it's not being used, or who only plan to use their RV during the summer months when it's nice outside. Outdoor storage is also great for those who live near where they plan to park their RV because it saves them the hassle of having to drive or tow it after it's parked.
Outdoor storage facilities typically provide on-site security and security cameras, but no climate control. However, you will still want to remember to bring along anti-freeze and any other items you may need to help keep your RV from freezing over the winter months.
Pros and Cons of Self-Storage Units
Aside from the typical RV storage units, self-storage units are an option you may want to consider. They are not explicitly designed for RVs, but some provide enough space so you can park your RV in the unit without worrying about it being damaged by other items or weather conditions.
One of the drawbacks to self-storage units is that they are typically more expensive than both traditional storage unit facilities and outdoor storage facilities.
Self-storage units typically provide less security than outdoor or indoor storage units because they are not climate controlled and don't have on-site security like traditional storage facilities do. You will want to make sure your RV is properly locked up so it cannot be moved by someone other than yourself.
Aside from deciding whether you'll be storing your RV indoors or outdoors, you also need to ensure that your RV is safe. Keep an eye out for fire hazards, flooding possibilities, and more to ensure that the storage facility you choose has taken steps to protect your investment.
Here are other factors to take into account.
Insurance:
Look into your RV policy to see if the RV is covered while in storage. Not all policies include this, but the facility itself may have insurance coverage of its own. Compare the terms of your insurance with the insurance offered by the storage facility before deciding on the best coverage for your RV while it is in storage.
If you have a personal liability policy, you will need to check if it applies to damages incurred while your RV is in storage. Some people choose to purchase additional insurance for their RV when it is in storage, but this can increase the overall cost. Do not worry, though, because most of the time, the extra fees are minimal and preventative measures are worth the extra cost.
Storage Facility Employees:
Ensure that there will be someone caring for your RV while it is in storage. If you choose a large storage facility, there should always be someone around to help if needed. There may be times when your RV needs maintenance, and you do not want to worry about booking appointments for this.
Besides having staff on-site, make sure they are trained and experienced in working with RVs and boats. This is a critical part of choosing the best storage facility for your lifestyle choices. Many RV owners will complain that their storage facility does not have enough staff working to support their RV storage needs during certain months of the year.
Inspections:
There is no better way to find out if your RV will be safe in a storage facility than by inspecting it yourself. Look at the security, make sure there are no fire hazards, and investigate what happens when they need access to your RV. The more information you have, the better equipped you will be to make a final decision.
Amenities:
Take the time to research the amenities each facility has, as these will influence the price and your choice. Commonly offered amenities include electricity, keeping your batteries charged, access to water, sewage disposal, trash services, and heating or cooling. The more amenities a facility has, the higher you should expect the rate to be. If you are on a budget, you will need to search for a place that does not have amenities that are not important to you. This way, you can reduce the cost as much as possible without sacrificing your lifestyle.
Storage Facility Location:
Always look for a storage facility near your home and not in an isolated area. If you choose to drive to work every day, make sure there is a location near you that you can drop off or pick up your RV each day (even if it means deviating from your normal route).
The facility should not be too far to discourage you from visiting often or taking your RV out for short trips once in a while to keep it in good condition. Storage facilities that are too far away also increase the possibility of damage occurring and theft, both of which can run up your expenses if they are not covered by the facility.
Space:
Make sure you find a place that has adequate space for your RV unit as you want to maneuver in and out of it comfortably. You also want to consider if there is enough space for you to wash the RV to save you time and hassle while you are traveling. Not all storage spaces are the same, so take the time to look around before making your decision.
If you are not sure if a space is big enough for your RV, ask the facility manager to take you on a tour. If you can go inside and move around or drive-in, check how low it dips when entering the storage space. There should be enough space for you to do this easily, even if your RV is parked on uneven ground.
Storage Facility Flooring:
While this may not be the most important factor, it is still something you should consider. Some storage facility floors are made of asphalt or gravel. These are the best for your RV. Dirt is not the best option especially if it rains often.
Security:
You want a storage place that is close to your home, so you have easy access to the RV as well as one that is safe. Some facilities have minimal security, whereas others have hi-tech, advanced security measures. The more secure a facility is, the higher your costs will be. You need to consider the location too, as to whether it is a high-crime neighborhood or not.
Pricing:
After you consider all this and you know what you want, it is time to look at pricing. A storage unit indoors for an RV can cost anywhere from $150 or $400 per month. One with fewer amenities, less space, and lower security may only be around $150. Outdoor facilities will be even cheaper, but you should opt for a canopy, in this case, to protect your RV from the elements.
You need to consider how often you will visit the storage facility and how much it costs for a daily fee. If you only make a trip every other week, an expensive daily rate can quickly take out your savings. Some facilities also charge extra fees if they have to move your RV from one spot to another or if there is any damage that occurs to your RV or storage facility.
Additionally, you may also want to compare prices, or even ask friends or online communities for recommendations. Sometimes, a recommendation from a friend will lead you to a great deal.