Class B RVs can be suitable for a full-time living but can get a little limiting. This is why you should be meticulous with your assessment and decision making. There are many manufacturers of Class B RVs but the specifications are very different. Full-time RV living has demands and they must be satiated if you are to have a convenient and enjoyable experience.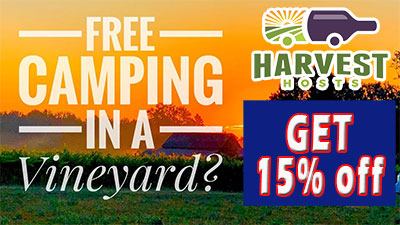 Class B RVs do not require a separate vehicle for towing and are more compact. They can be easily maneuvered on roads, at gas stations and in parking lots. Class B RVs usually have a water system including sink and shower, a bed, heating, and cooling and include a refrigerator, stovetop or cooking apparatus, a seating area, and a toilet. Despite being compact, Class B RVs can be quite elaborate with various features, such as customized cabinets, just be aware that these will increase the cost.
Class B RVs have a vast price range and are more expensive than Class C RVs. The features vary widely and the experience will also be quite different depending on the model you choose. Always test drive a few before picking one and if you have any experience with RVs, then put that to good use while evaluating and choosing between specific models. Prioritize fuel economy, check the outlets, assess the lighting, test the water system, inspect the shower and bathroom, try the furnace or the burner, run the generator and check out the storage spaces.
Always consider Class B RVs that you will be able to afford. It is unwise to take on a debt you may struggle to manage. It is not hard to fall in love with majestic motorhomes, but you will have to pay a little more for a premium model if you are considering living in your RV full time. For a temporary living, you can afford to let go of some features and stick to a more stringent budget.
The top 5 Class B RVs to choose from for 2020 is below to help get your search started.
1. OffGrid Adventure Vans
These Class B RVs are priced around $60,000 but the cost can go up with custom features. The vans feature a full-size bed, a living area, and dining space. There are bench seats in the rear that is used as the living and dining area and a removable table. Six people can be comfortably seated at the table. There is a bathroom with an optional toilet. It has a shower as a standard feature. The models are also environmentally sustainable and have a hundred watts solar panel. Off-Grid Adventure Vans offer base and custom models and they have designers, electricians, and carpenters who can work on your campervan from scratch.

2.Winnebago Revel
Winnebago Revel is priced around $135,000 and is a four-wheel drive and the first mass-produced Class B RV using the 144" Mercedes-Benz 4×4 Sprinter as its base. The adventure rig has all-terrain tires and offers a wet bath and full kitchen. The bed big enough for two and is mounted in the rear. When folded up, there is enough space for surfboards and bikes. There is a living area with a flip-up counter, water filtration system, induction cook-top, and sufficient storage. There are a flip-down sink, shower head and toilet in the wet bath. There is a foldable table between the dinette and the seats in the front. The Revel has an entertainment system, keyless remote entry, solar panels mounted on the roof capable of generating two hundred watts of power, integrated LED lighting and electric awning.

3.Pleasure-Way's Tofino Camper Van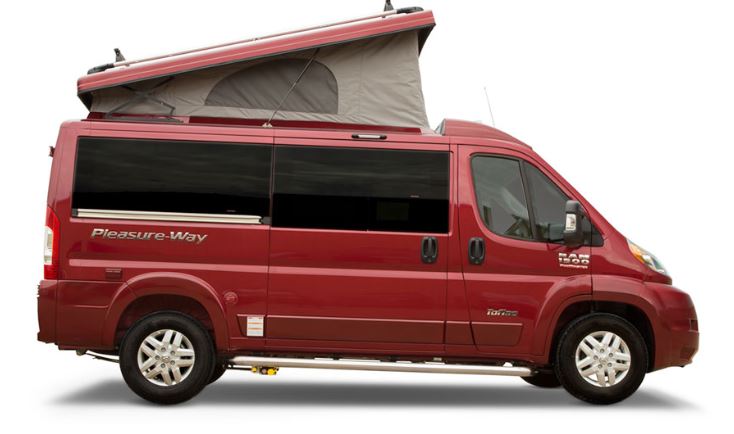 Built on the RAM ProMaster 1500 chassis, this RV is a throwback to simpler times but with high-quality amenities. Average pricing for the Tofino is around $69,000. Sleeping accommodations include a 49-by-72-inch overhead bunk accessible via a folding ladder and a rear sofa with two seat belts that converts into a 54-by-72-inch bed. The Tofino is outfitted with two 100-amp-hour-rated lithium house batteries, a 2,000-watt inverter, touchscreen control panel with remote, adjustable swivel seating for the driver and passenger, a 2.1-cubic-foot refrigerator, single-element induction cooktop, and a 15-gallon freshwater tank.



4. The Airstream Interstate Grand Tour
This Airstream RV is priced around $165,000 and is known for its amazing designs and comfortable layouts. Classified as a luxury Class B RV, you get a sufficiently spacious area for two adults, a premium kitchen, heated seats, adjustable lights and shades that you can remotely control. The vehicle can easily drive seven people buckled on the seats. There are two-floor plans and there are side view and rearview cameras as well as air ride suspension, handcrafted cabinetry, a quiet generator, tankless water heater, climate control with heating and air conditioning, a BluRay player and Samsung television.



5. ModVan CV1

This RV is priced at$65,000 and is easily one of the most affordable Class B RVs on the market right now. The motor home can seat five people and can sleep as many as four adults or two adults and two kids. The campervan is equipped with a propane stove having two burners, a sink, fridge, air conditioner, furnace, toilet, and cabinets. ModVan has a battery-powered fridge and a solar panel with a capacity of three hundred watts as well as LED lighting and pop up roof.