Last Updated on January 1, 2023
When you RV often or live in one, you either already know you need an inverter or have had people recommend that you get one (unless you have one built-in). Having an inverter is one way to ensure that your RV is satisfying to live in and it is the RV must-have accessory for good reason. With an inverter, you can run all onboard gadgets like your computer, TV, appliances, lighting, and more. There should be no question about having an inverter; the question should be which one is the best one to have for your needs.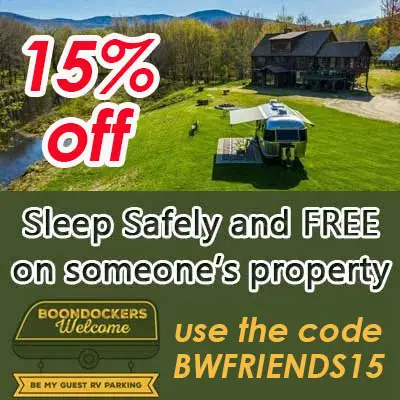 Getting the Best RV Inverter
There are various sizes, brands, and types of inverters to choose from so it can be confusing to know which the best ones are, especially for your own needs. Let me provide you with a few of the important facts to consider when buying an inverter, to help you narrow your search.
Size: When it comes to inverter size, physical dimensions should not be the focus. You want to pay attention to the output it gives. To figure out which size is best for your RV, you need to work out the power of watts required by all the devices you plan to run. Be sure to add about 15 percent to the total that you get and look for an inverter that covers the watts you need. I would say most of the time, if you are not planning to run high wattage devices at the same time, 2000 or max 3000 Wats inverter will be enough. I personally have only a 300W inverter to charge my devices, when I run my larger devices like the coffee maker or toaster, I just turn on my built-in generator.

Waveform Output:

You have two choices here; pure and modified sine. Note that modified sine is cheaper than the pure one. The pure one does generate much cleaner outputs and you can expect to run more appliances with this type. With the modified sine you can expect to run most appliances but likely not all.
Overload Protection: You want an inverter that comes with this because it helps to shut the inverter down in the event a load too large to handle comes in.
Operating Period: This refers to the length of time that your inverter will be in operation and this usually depends on the battery capacity. Some inverters will turn off automatically to save battery power which is a bonus feature to look for.
The 5 Best RV Inverters
Once you have narrowed down the features that will fit your RV and your needs, then you get to go shopping. Some of the top recommended RV inverters are below for you to help get your search started.
Ampeak 2000-Watt Power Inverter: This inverter is relatively new and super powerful. It delivers continuous power up to 2000 watts and has a 4000-watt surge capacity. This will allow you to power all the devices in your RV. It comes with 3 AC outlets and a USB port as well as a digital display and auto shutdown protection. It also has protection against overheating, low voltage, short circuit, and overvoltage, which therefore keeps you safe. The one drawback to this inverter is the price tag which is high because of the features and benefits. Because of what you get from this inverter, the initial investment is worth it in the end.
POTEK 2000-Watt Inverter: Another top-rated 2000-watt inverter with 3 ac outlets is this gem from POTEK. The outlets and USB port allow you to power multiple devices at once. This device also comes with highly-rated safety features to protect you from overvoltage, overload, overheating, and short circuits. It is also equipped with a cooling fan that allows the unit to cool should it reach a temperature of over 104 degrees Fahrenheit. This unit has been reported to start making noise after use for a few months, which can be distressing. While function is intact, the noise can be a disturbance.

VertaMax Pure Sine Wave 3000-Watt 12V Inverter:

This unit by Windy Nation offers an impressive 3000-watt power supply and is equipped with 3 grounded AC outlets as well as a hardwired terminal block. The LED digital display makes it easy to keep track of the readings and the pure sine wave technology is perfect for all electronics. It comes with overload protection as well as protection against reverse polarity, overheating, and short circuit. The thermal shutdown feature is a bonus as is the high/low voltage alarm. This unit does not come with a USB port, remote switch, or cables, but is one of the more sturdy units on the market.

AIMS Power 3000-watt 12V DC Inverter:

This unit is one of the best values for the money you will spend. Using reliable pure sine wave technology makes this ideal for industrial or marine use and it comes with a 100A smart battery charger. You can choose from different battery type settings so you can pick exactly what fits your needs. The dual outlet plug in the front makes it easy to connect appliances below 1500 watts quickly. You get great value for what you spend on this unit and it will keep most of your devices well-powered, but it has been reported to make a lot of noise which many find disruptive.
Xantrex PROWatt 806-1220 2000W Inverter: This inverter is top-rated for the features you get and the impressive supply of 2000-watt power. It comes with an easy-to-read digital display and is made according to strict quality standards, so you can be assured of the quality product you are getting. The handy USB port allows you to charge electronics like your phone or tablet. The smart protection features cause the automatic shutdown to prevent any overload, so your safety is never an issue. This unit comes with many beneficial features that make it an ideal road companion and it has proven to be more reliable than previous Xantrex models.
Whichever inverter you decide to go with, what really matters is getting what fits your needs. There are many to choose from but so long as you get a reliable unit that covers your power needs and protects your safety, you will be on the right track.