So, you decided you want to live in an RV just like me. But which one? I would suggest first to buy one that you can afford and see how you like it. I have a small Class C RV but that might not be for you.  However, I am alone and I cannot imagine living in this size of RV with anyone. Small RVs have lots of benefits, for example, I can pack up and run my errands with it way easier than with a larger motorhome or trailer. I can boondock for about two weeks with it in place. I was talking to other RVers with larger rigs and their limit is about two weeks as well. We all need to dump and fill after about two weeks, and we can run out of food too.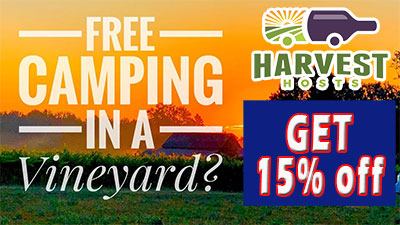 Starting out in a small motorhome might be the perfect living situation for you. If you are solo, most likely it is enough. You can fit your stuff comfortably and can fit in campgrounds and parking spaces with more ease than larger RVs. Smaller motorhomes are also more affordable.
Getting a new or used small RV?
There is no quality control in the RV industry, all new RVs will have issues after rolling them out of the dealership. I have not yet seen a new RV with no issues. See my friend's Amber's video on RV quality control problems here.
I would suggest to get a two-three-year-old RV. That might be your best bet. The owner most likely has already taken care of the bugs and hopefully kept it this long because they were happy with it afterward.
What is a small RV?
The classification of a small motorhome or RV is one that is under 25 feet. This means that Class A RVs are out of the picture, but there is plenty of Class B and Class C motorhomes just waiting to get on the road with you. After consideration of mileage, cost, maintenance, and consumer reviews, the best small RVs to live in are below.
#1. Thor Chateau Class C Motorhome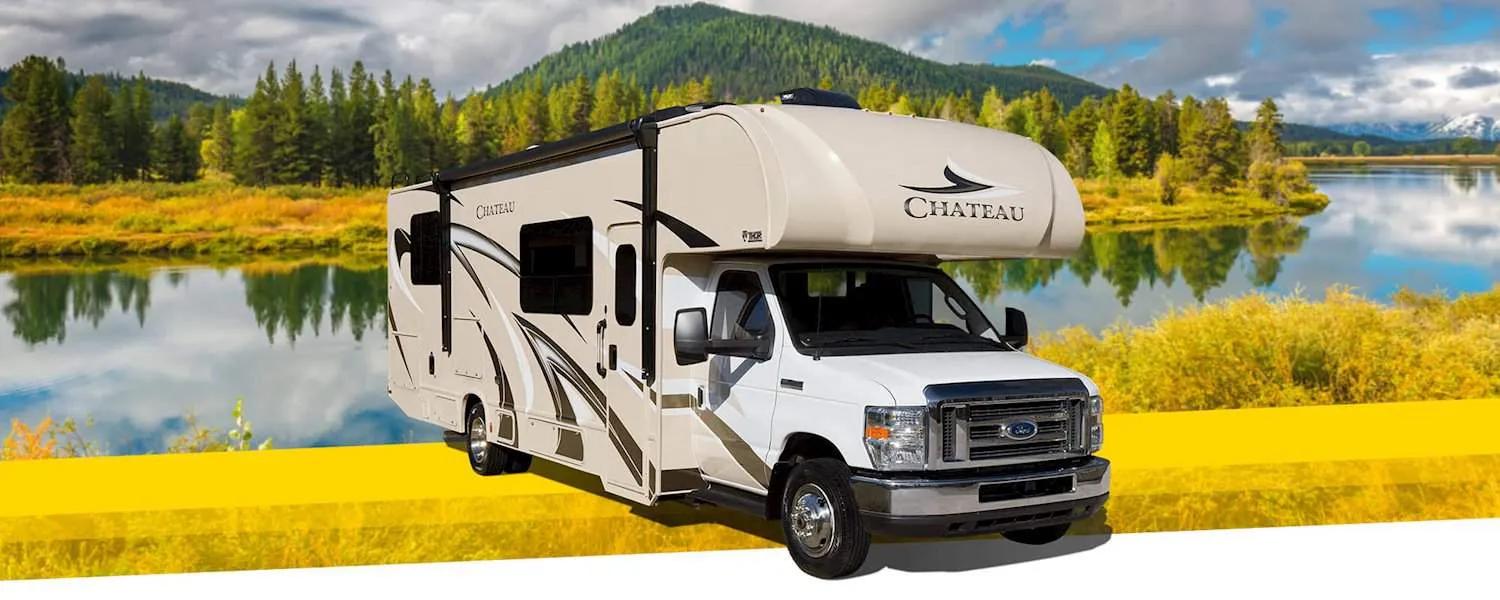 The Chateau has 10-floor plans you can choose from to give you a unique feel of your own. The Ford E-series chassis is durable, reliable, and stable with automatic level jacks and an electric stabilizing system. You get a power awning off the roof along with an exterior TV and Wi-Fi ranger ideal for any tailgating parties. The leatherette dinette booth is one of the most popular features and the kitchen comes with all the cabinets you could need as well as a fridge and stove.
#2. Coachman Galleria Class B Motorhome

With 4 different floor plans all just a little shy of 25 feet, space to sleep 2 people, and interior vinyl walls, there is so much to love about this RV. This model is affordable for Class B and still offers quite a bit of luxury. Along with a dinette, kitchen, and bathroom, you get back up camper, electronic stability system, collision avoidance indicator and high beam assist to make driving this RV easy as can be.
#3. Gulf Stream Conquest Class C Motorhome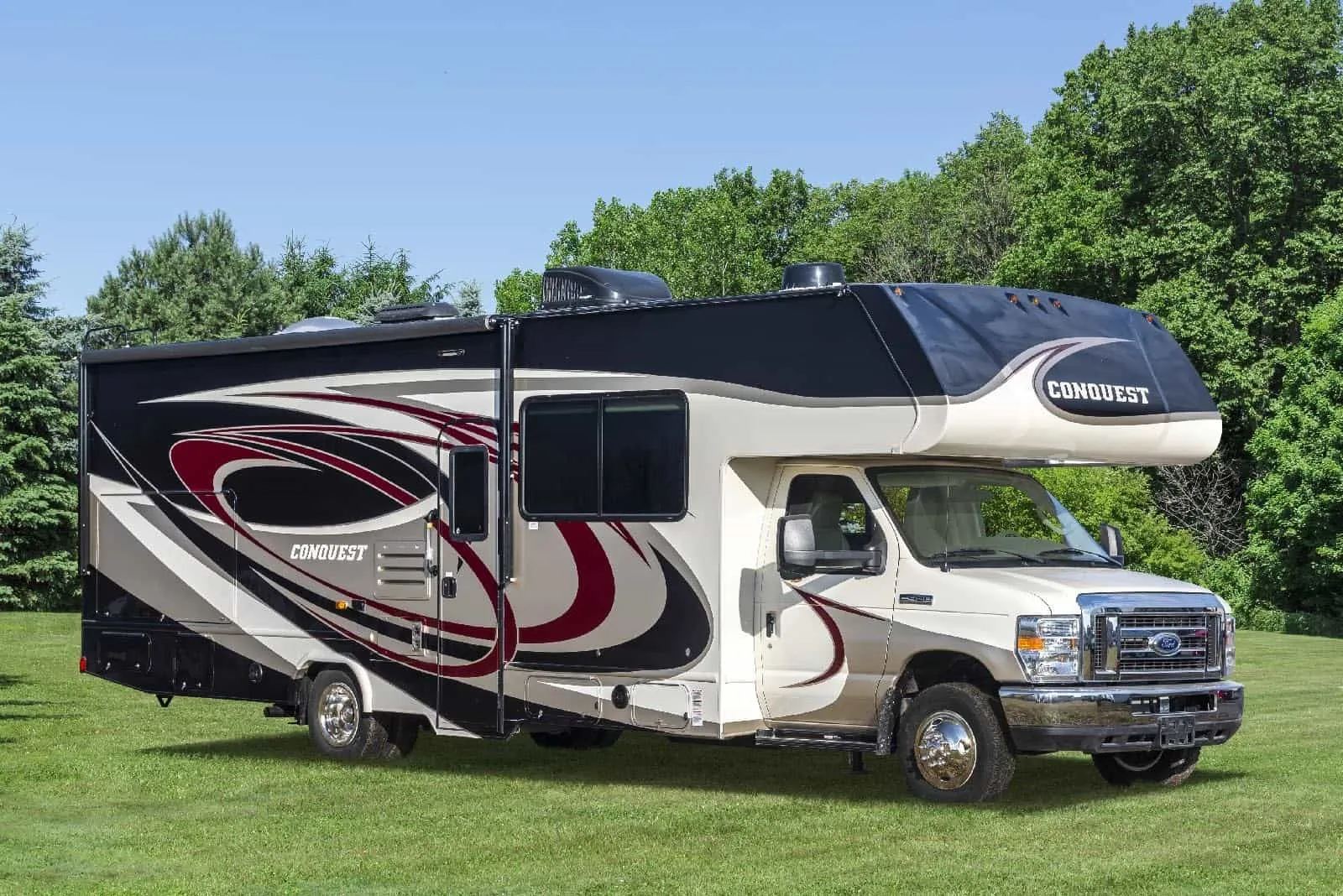 This Class C is one of the best sleeping up to 6 people where most small RVs can only accommodate up to 4. Complete with Roanoke light cherry cabinets and luxury-looking interior fabrics, this Class C could easily be a Class A. The basement storage and slideout room makes it look bigger than it is and gives you all the space you need. You still have an easy-to-drive small motorhome when it is time to hit the road.
#4. Dynamax Isata 3 Class C Motorhome

The Isata 3 gives you a choice of 3 floorplans, each very unique from the others. One style gives you a bunkhouse while another gives you a slide-out. You end up with more space then you would expect and comfort you can appreciate. As one of the most fuel-efficient motorhomes, the Isata averages between 12 and 15 mpg. It also comes with leatherette driving seats, dark tinted windows, a custom full-body paint package, premium vinyl flooring, Italian cabinetry and all the usual motorhome basics like a dinette, kitchen, and bathroom.
#5. Entegra Odyssey Class C Motorhome
With 7 different floorplans, you get slide-outs that sleep five making it more versatile than other small motorhomes. One of the more affordable motorhomes, the Odyssey is a great first RV for beginners looking to hit the road. The frame and interior are durable and you get TVs in the bunk area, dinette, kitchen, bathroom, power anti-lock brakes a powerful air conditioner and furnace.
There are more small motorhomes out there then you will know what to do with, making it a real challenge to find the right one. These top 5 are a great place to start your shopping. It is important to always do your own research first and decide what matters to you before picking an RV. It needs to have the features that are important to you and it needs to stay within your budget. Whatever your needs and whatever your budget, there is one thing you can be sure of when getting a small motorhome; good things really do come in small packages.